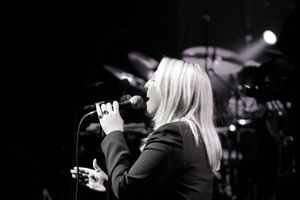 London based vocalist and songwriter, Bianca has extensive studio and live performance experience. Beginning her musical career as the lead vocalist in an original band working with management team Denis Ingoldsby and Oliver Smallman of First Avenue Music, seeing the likes of Eternal, Louise and The Honeyz pass through its doors

Bianca's varied career includes working with "The Project" gospel choir as well as working with many top UK writers and producers and recording sessions with artists such as Gareth Gates, Emma Bunton, Rachel Stevens, Osmond Wright (Zero 7) and Amy Studt. In December 2009 she took part in Twisted Christmas with the Sense of Sound Singers at The Barbican London alongside artists such as Ed Harcourt and Eliza Carthy.

In July 2010 Bianca sang for the "Let It Be Live" concert with the SOS Singers for the "Les Nuits De Fourviere" festivals in Lyon and Paris, with the acclaimed musical director David Coulter. Then in September 2010 she performed at the MOBO Nominations Ceremony. Bianca cites her career highlights as singing with Damon Albarn and Brian Eno on board The Trident , Greenpeace ship in Greenwich, for a televised performance of a choral piece titled '5 Minutes To Midnight'.

Bianca has her own everest of live performances on Youtube and her cover of the vocally challenging song titled 'The great gig in the sky' is taken from Pink Floyds 'Dark Side Of The Moon' Album, this cover has gained a great following online as she is described as  "a blonde diva who stole the show, her astounding soul gymnastics making the hair on the back of your arm stand up". 


With over 1.5 Million hits on YouTube and still counting .....

BUY BIANCA'S COVER VERSION OF "GREAT GIG" BELOW NOW


MORE COVERS ARE AVAILABLE ON THE MUSIC PAGE
The Great Gig in The Sky
24th March 2013 is the celebration of 40 years since the release of Pink Floyd's 'The Dark Side of The Moon Album" and due to the popularity and demand, with kind permission of Pink Floyd Music Publishers Limited Bianca has made her cover available for your download and enjoyment. 
 
"The Great Gig In The Sky" by Richard Wright © 1973 Pink Floyd Music Publishers Limited.
Taken from The dark side of the moon album, originally performed by the fantastic Clare Torry.

"The great gig in the sky" is the property of Pink Floyd Music Publishers Limited and the purchase and download of this music has been expressly permitted by Pink Floyd Music Publishers Limited.
All related tracks and content have been uploaded and made available under PRS Music Licence.